Clients Trust Our Knowledgeable Firm
Rollovers are a motorist's worst nightmare. One minute, you're cruising down the road, in complete control of your vehicle. The next minute sees you losing control, and your vehicle leaving the ground.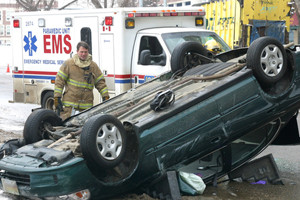 After the violence has subsided, rollover accident victims are often left in a state of shock, and with serious injuries. With a mangled vehicle and ever-increasing medical bills, it's not unusual to feel like there's no one on your side when dealing with the insurance companies.
Fortunately, our Santa Rosa car accident attorney can help. It takes a certain know-how to guide someone through the process of prosecuting an injury claim from a rollover accident. We've represented victims just like you for decades, and can give your claim the attention and care that it deserves.
WE CAN HELP YOU GET WHAT YOU DESERVE
When in the hands of our experienced firm, you can trust that we know how to anticipate the legal road ahead and the obstacles that the insurance industry will put between you and compensation that's fair. If you do not have the time, knowledge, or resources to face these insurance companies, we are eager do it for you.
Clients look to The Law Offices of Max G. Arnold for the help they need because:
We work with you over the phone, email, and fax if you are unable to visit our office
We can come to you to help provide you with the guidance you need
We have a form that you can fill out if you aren't in the mood to speak on the phone
We can advance all costs and fees until your case concludes, at no up-front cost to you
Our experience shows that your insurance rates will not increase if you are not at fault for the accident
We understand that this experience is new and traumatizing for most victims. It may even be difficult to accept what happened. It's no wonder why insurance companies act quickly when trying to get you to settle. It may be hard to comprehend that they are trying to offer you as little as they can, and less than what you are entitled to. That is why we encourage you to give our experienced personal injury law firm a call today. We are here to help you get back on your feet so you can resume your life.
Contact us at and receive a free case evaluation. Our firm can stand by you until you receive the compensation you deserve.