Standing Up for Our Client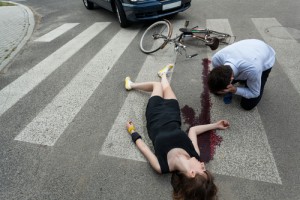 Bicycles are becoming a preferred method of travel for many, in part because they are an eco-friendly way to get around and because they are a great way to get exercise. However, automobiles and trucks are no friends to bicyclists, and the number of accidents has been on the rise in recent years. If you or someone you are close to has been in a bicycle accident, get in contact with our Redding, CA bicycle accident attorneys as soon as possible. We can help.
Special Considerations
If a bicycle accident occurs, there are a few questions that should be answered. Some of these questions include:
Did the cyclist have protective gear?
Was he traveling on the right portion of the road?
Did the driver respect the bicycle in the same way he would respect a car?
Was the driver at fault?
Your case depends on how these questions are answered. When you get in touch with The Law Offices of Max G. Arnold, Inc., our experienced lawyer can talk through these points with you and help you to determine how to proceed.
Compensation for Injuries
If you were hurt in a bicycle accident, our legal team can use our experience and insights to help build your case. It can be difficult to talk about your case with someone that you don't know and you may be worried about saying the "right" thing. However, do not let that stop you from getting help. You should not handle your case on your own, especially with your right to compensation at stake. You deserve financial help for your medical bills and pain and suffering.
Clients immediately recognize that everyone at The Law Offices of Max G. Arnold, Inc. is friendly and caring. Our team is on your side and wants to help you. You need support, and that is exactly what we can provide you with. We are with our clients every step of the way, fighting their battles to ensure that they are treated fairly throughout this process.
Contact us at to schedule your free case evaluation. Our bicycle accident attorneys in Redding, Santa Rosa, Roseland, or Sonoma County, CA can provide you with the legal support that you need to get through the aftermath of your bicycle accident.