35+ Years of Experience Working For You – Call (877) 620-1371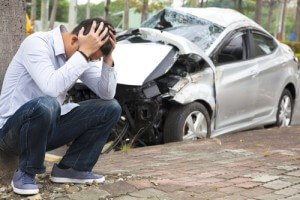 Throughout Chico, Oroville, and their surrounding regions, more accidents are being caused by irresponsible drivers – whether they're on their phone, eating, playing with the radio, or any other activity that keeps their eyes off the road, these drivers are unfortunately putting everyone else at risk. If you or a loved one has been injured in a car accident caused by another individual or entity's negligence, you need a dedicated personal injury attorney on your side.
At The Law Offices of Max G. Arnold, we understand that this is a time characterized by uncertainty and doubt, but we are committed to standing by your side every step of the way –
our trusted Chico car accident lawyers won't settle for anything less than what you deserve.
---
Put our more than 35 years of legal experience on your side. Contact The
Law Offices of Max G. Arnold today to schedule
your free case evaluation.
---
Common Causes of Car Accidents
Despite a concerted effort by law enforcement and other entities to increase
public awareness on these issues, many drivers still engage in behaviors that impair their ability to safely drive a motor vehicle. Although the
conventional wisdom blames millennials for these trends, our car accident attorney's experience confirms that people from every walk of life can use poor judgment when utilizing modern technology. As a result, all of us are at a heightened risk behind the wheel.
Car accidents can be caused by the following:
Distracted diving
Drunk driving
Automobile defects
Reckless driving
Speeding and disobeying traffic laws
Types of Car Accidents
Rear-End Accidents

One of the most common types of accidents are rear-end crashes. At first blush, one might assume these are typically "minor" accidents that don't inflict severe injuries. However, in the experience of our Chico car accident attorneys, even a seemingly minor rear-end crash can cause painful injuries, such as concussions, fractured vertebrae, or major sprains of the spine.

Drunk Driving Accidents

Operating a powerful machine like a car while under the influence of drugs or alcohol means impaired judgment, slowed reflexes, and other problems which make someone less safe behind the wheel. These facts are reinforced from a very early age, and modernly, one can expect universal condemnation towards anyone caught driving while drunk. As indicated by the frequency with which we all see drunken driving, there are those who would continue to endanger the general public by operating their vehicles in an intoxicated state. For a person frequently engaging in such behavior, it's only a matter of time until they cause a serious accident.

Pedestrian Accidents

Anyone who's walked modern city streets knows it's a jungle out there for pedestrians. People are driving faster than ever, and with more distractions than drivers from previous generations. This causes them to pay less attention to the road, including people walking around roadways as pedestrians. Injuries from those accidents can be grievous, since the human body provides little protection against a speeding automobile. A person could wake up in hospital with broken bones, and completely unsure of what they need to do. Unscrupulous characters in auto claims will readily take advantage of this stupor, attempting to settle valuable injury claims for pennies on the dollar.

T-Bone Accidents

Our experience has shown that t-bone or other broadside collisions can be extremely serious. They produce some of the highest rates of fractures, brain damage, and other severe injuries. The mechanics of the crash mean that the vehicle's passengers absorb the brunt of any t-bone collision, meaning that the outcome of the accident will likely be a lot more serious than other, smaller kinds of impacts.

Texting-While-Driving Accidents

The newest plague of accidents to hit Chico, Oroville, and the surrounding areas is one you've likely heard about: drivers texting on their cell phones. Driving something as large and powerful as a modern car is difficult enough without electronic distractions – once you throw in texting, it's simple impossible. Attention that would normally go to safe driving is devoted instead to a small screen away from the road.

Motorcycle Accidents

Motorcycles are gracing our highways in larger numbers than ever. They are popular among people of all ages, in part because they help riders feel free and unencumbered as they enjoy nature and the open road. However, riding a motorcycle comes with risks. Riders may love to feel the open air around them, but they're still sitting in the open without any protection in the event of an accident. As such, there isn't anything to protect their bodies from impacts against the ground or other vehicles. This can lead to very serious injuries during a motorcycle accident.

Rollover Accidents

Rollover accidents are a driver's worst nightmare. Many start in a similar fashion: one moment, a driver is traveling down the road, in confident control of their vehicle. Due to an unexpected, sudden loss of control, the wheels of the vehicle leave the ground, and the car takes flight. The impact is violent, and many victims are in a state of shock after such a frightening event. Due to the combined pressure of mounting medical bills and a wrecked vehicle, many injured claimants feel completely overwhelmed when they're dealing with insurance companies.
Steps to Take After a Car Accident
Every accident is unique, but depending on the facts of an accident, it may be necessary to conduct witness interviews, or depose those officials who responded to the scene of the accident. A plaintiff may also need to subpoena important documents, such as a defendant's phone records. These are only some of the things you will need to worry about as an injured claimant, and fortunately, you do not need to have all the answers yourself. A skilled Chico car accident attorney with our firm can help secure valuable information, and obtain the evidence necessary to hold the responsible parties accountable for your damages.
You should gather the following information after a car accident:
Photos of the incident
The name and badge number of the responding officer(s)
The name and contact information of any nearby witnesses
How long do I have to file a lawsuit after a car accident?
In California, the statute of limitations for personal injury cases is 2 years from the date of the injury. If you try filing a case outside of this time frame, it's very likely that the court will dismiss your case and you will have lost your opportunity to recover for any damages. Delaying the filing of a claim or case can be detrimental to your outcome, which is why you should not wait to put a skilled Chico car accident attorney on your side. Our team will work tirelessly to ensure that justice is pursued.