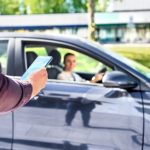 Uber and other ridesharing services have become increasingly popular modes of transportation in recent years. However, accidents can still happen, and as a passenger, it is essential to understand your rights in the event of a rideshare accident. In ridesharing accidents, multiple insurance agencies are often involved, including the ridesharing corporation's insurer, the rideshare driver's private insurance, and the insurance companies of any other drivers involved. Here's what you need to know about your rights as a passenger after a rideshare accident.
1. Insurance Coverage:
The first step in understanding your rights is to determine the insurance coverage available. Ridesharing companies typically provide liability coverage for their drivers, which may apply when the driver is at fault and the rideshare app is on. In addition, the rideshare driver's personal automobile insurance coverage may come into play if the app is off or if the rideshare company's coverage limits have been exhausted. Lastly, if another driver caused the accident, their insurance company will also be involved. It's important to be aware of these different insurance policies when seeking compensation for your injuries and damages.
2. Seeking Medical Attention:
After a rideshare accident, your health should be your top priority. Seek medical attention promptly, even if you think you have only minor injuries. Some injuries may not manifest immediately, so it is crucial to get evaluated by a medical professional. Not only is this essential for your well-being, but it also helps establish a medical record that can support your injury claim later on.
3. Collecting Evidence:
To strengthen your case, collect as much evidence as possible at the accident scene. Take photos of the vehicles involved, including their positions, damage, and the surrounding area. If there are any visible injuries, photograph them as well. Obtain the contact information of the rideshare driver, any other parties involved, and any witnesses present. Witness statements can provide valuable firsthand accounts of the accident. Be sure to gather the rideshare driver's information, including their name, contact information, and license plate number.
4. Reporting the Accident:
Contact law enforcement and report the accident. An official police report will contain important details such as the date, time, and location of the accident. Request a copy of the report for your records, as it can serve as valuable evidence during the claims process. Additionally, be sure to report the accident to the rideshare company through their app or customer service.
5. Contacting an Attorney:
Navigating the complexities of insurance claims and seeking compensation can be challenging, especially with multiple insurance companies involved. Consider consulting with an attorney who specializes in rideshare accidents. They will have the expertise and knowledge to handle the legal aspects of your case and can guide you through the process. An experienced attorney can help determine who is liable for your injuries and losses and negotiate with the insurance companies on your behalf.
6. Compensation for Damages:
As a passenger injured in a rideshare accident, you have the right to seek compensation for your damages. These damages can include medical expenses, lost wages, pain and suffering, and any property damage. Your attorney will help you gather the necessary evidence, evaluate the extent of your injuries and losses, and calculate a fair settlement amount.
7. Statute of Limitations:
It is crucial to be aware of the statute of limitations for filing a lawsuit after a rideshare accident. Each state has its own time limit within which a claim must be filed. Missing this deadline can result in the loss of your right to seek compensation. Consulting with an attorney as soon as possible after the accident will help ensure that all necessary paperwork and filings are completed within the required timeframe.
Conclusion
As a passenger involved in a rideshare accident, it is essential to understand your rights. Take swift action by seeking medical attention, collecting evidence, and reporting the accident. Contacting an attorney who specializes in rideshare accidents will provide you with the necessary guidance and support throughout the claims process. Remember, you have the right to seek compensation for your injuries and damages, so be proactive in protecting those rights.
Got Questions? Let Us Help!
Welcome to The Law Offices of Max G. Arnold, Inc., where we proudly apply over 35 years of legal experience. After completing law school in just two and a half years, Max G. Arnold dove into personal injury law, determined to help those in need fight for their rights. He knows the best strategies to use to help personal injury victims win cases with integrity. The Law Offices of Max G. Arnold, Inc., now partnered with son Barrik Arnold and Brian Michael Pratt, tout a detailed understanding of all of the legal obstacles that you may face and uses their unique experience to help individuals get what they deserve. We have three offices in Chico, Redding, and Santa Rosa, California. Schedule an in-person case evaluation today.
Categorised in: Car Accident